11/12/2014
World GIS Day in Bulgaria


GIS Alliance Bulgaria comprising of Mapex, TechnoLogica, Datex, GAP Consult, Datamap and Bitmap invites all their colleagues and customers to celebrate the World Day of GIS in Bulgaria. We will share about:
- Тhe best GIS practices in Bulgaria
- Тhe best GIS practices worldwide
- Тhe undeveloped opportunities in Bulgaria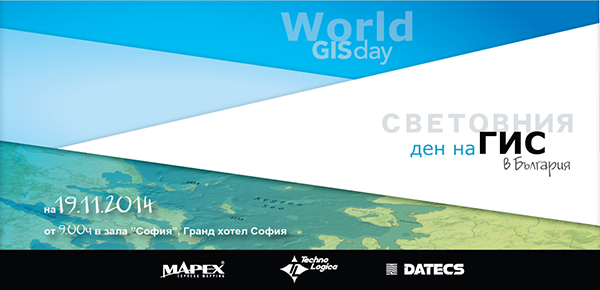 06/05/2014
BGmaps.com - a board member of IAB Bulgaria


As a representative of DATECS Ltd., BGmaps.com was elected as a board member of IAB Bulgaria.
After the General Meeting of "Interactive Advertising Bureau Bulgaria" on June 4, 2014, the new Board of Directors includes: Alfabank, DATECS – Bgmaps, GNN Consult, ABC Design and Communication, Economedia and NetInfo.
This is another opportunity for us to actively participate in the processes for the development of internet business and online marketing in Bulgaria.
Let's wish to ourselves success and fruitful work!


IAB Bulgaria
05/27/2014
European Space Expo in Sofia


From 16 to 25 May in Sofia there was the European Space Expo. This traveling exhibition from the European Commission aims to show how space-based applications can improve the daily quality of life of the European citizens. During the exhibition, visitors were able to get familiar with wide range of applications through interactive displays offered by the European space programs in the fields of satellite navigation (Galileo software) and earth observation (Copernicus software).
In order to make the event more attractive and interesting to the public were series of presentations were organized from companies with knowledge and practice in the fields covered by the exhibition.
Datecs GIS Center was represented by the commercial director Stanislav Todorov, who spoke about "GIS and satellite images".


03/04/2014
Datecs GIS Center changed its Chief Commercial Officer


From March 1, 2014 Stanislav Derekyovski replace Borislav Ivanov to the post of Chief Commercial Officer at Datecs GIS center.
Stanislav Derekyovski has long experience in the domestic sales department Datecs as primarily worked with key and corporate clients. His operation with corporate customers and partners will be part of his duties as Chief Commercial Officer of Datecs GIS Center, as well as developing and implementing effective sales and marketing strategy, together with the other members of the sales team.
Good luck!





01/20/2014
Datecs GIS Center certified for ISO 27001


In 2013, Datecs GIS Center was developed and implemented Management System of Information Security, matching the standard ISO 27001:2005. At the end of 2013 Datecs GIS Center covered the requirements of the standard and passed successfully the certification. System information security management is applicable to: Development and delivery of GIS software, GIS (spatial) database and GPS solutions; Installation, integration and maintenance of software solutions and online services; Processing GIS / GPS data.


View certificate



Page 2 from 12: << Previous 1 2 3 4 5 6 7 8 9 10 11 12 Next >>